Capri Vacation Ideas 2013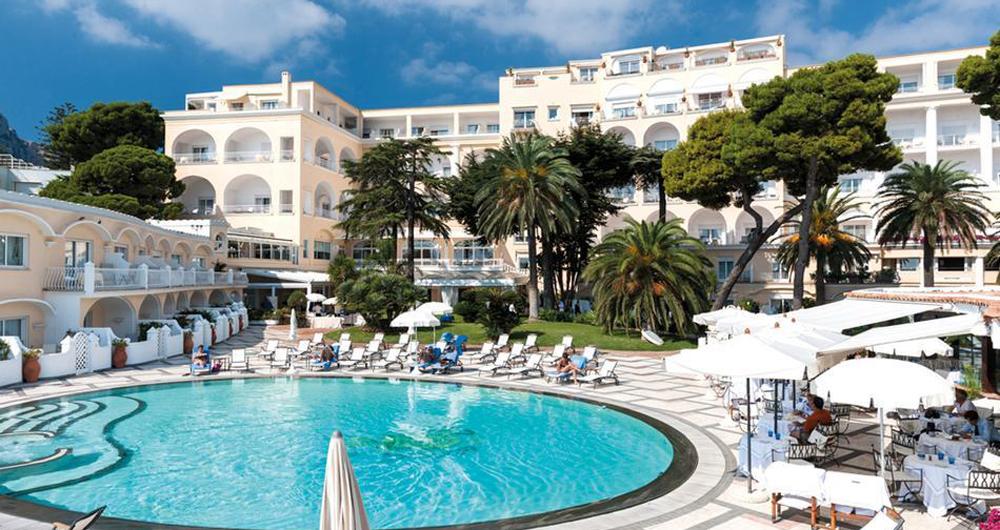 [Photo:Capri Palace]
Capri is a unique vacation destination where you can enjoy great sunsets over the ocean, romantic dinners, and take a boat into the Blue Grotto. Visit the island from May to September. If you get lucky with the weather, the end of September can be a good time to vacation on Capri because it is much less crowded than in the summer.
Fly into Naples and take a ferry or hydrofoil to Capri. Once you arrive in the port of Capri you can reach your hotel by bus or taxi. Most hotels offer shuttle service from the port to the hotel. Keep your eyes closed if you plan to ride the bus. Some of the turns on the narrow roads will take your breath away.
Capri is a small island so don't bring too much or you will find out how uncomfortable it is to haul your luggage in and out of a small bus or cab. Consider staying at one of the awesome hotels on the Amalfi Coast.
1. Poolside Restaurant and a Spa
The casually-sophisticated poolside restaurant at Capri Palace Hotel & Spa serves gourmet Mediterranean cuisine. Lounge by the pool with views of the sea and visit the spa and beauty center.
2. Rooms and Suites with Balconies
Hotel Caesar Augustus, Capri offers vacationers rooms and suites with balconies facing the sea (be sure to ask for a sea view when booking). Honeymooners should book the luxurious Caesar Suite.
3. Romantic Dinners with Sea Views
Have romantic dinners overlooking the sea at the Hotel Luna Capri restaurant. The hotel has a pool with a view and several rooms and suites with balconies.
4. Spectacular Sea Views and Gardens
Grand Hotel Quisisana has its own gardens, an outdoor pool and a location that lets you enjoy magnificant views of the island. Spend a few days at the Euroean-style spa relaxing on your vacation to Italy.
5. Romantic Honeymoon Idea
A honeymoon is a special time and therefore your choice of your destination should be based on something that is particularly exciting to you. Since many honeymoons are about resort-based relaxation any resort you choose should provide services and features above and beyond a typical getaway. Hotel Caesar Augustus in Capri, Italy offers honeymooners a combination of panoramic views, Italian cuisine and a romantic setting, ideal for a honeymoon trip. If you head to Capri during the shoulder season at the start or at the end of summer (try to avoid the month of August), the hotel will be more quiet. If you are looking for a honeymoon suite, try the Vesuvius Suite.