12 Hawaii Vacation Ideas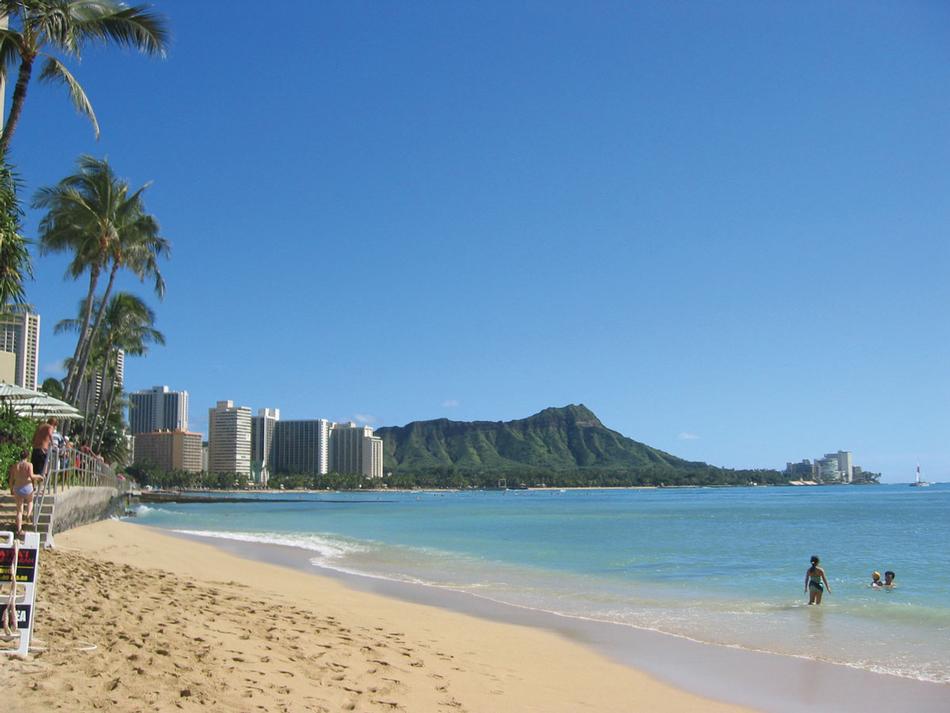 [Photo:VacationIdea]
Romantic Hawaii
When planning a romantic vacation getaway to Hawaii, the first thing to decide is whether you want a secluded getaway or a trip that includes shopping and people watching on the beach. For best nightlife, a choice of restaurants and people watching, visit Waikiki Beach on Oahu. The Royal Hawaiian hotel, also known as the Pink Palace because of its pink facade and interior decor, and Halekulani are popular with honeymooners and couples looking for romance.
The Hawaiian Islands with the Family
The Hawaiian islands are very nice for families - there are many sandy beaches, spas, golf courses and resorts with programs especially for kids. On the Big Island of Hawaii, the Mauna Kea Resort is home to two hotels - Hapuna Beach Prince Hotel and Mauna Kea Beach Hotel. The resort offers golf, tennis and a children's program. Popular watersports include snorkeling, scuba diving, outrigger canoe paddling, sailing, kayaking and catamaran rides.
For families who like to visit museums, aquariums and historic attractions, hotels on Waikiki Beach offer rooms for all budgets. Two large Hilton resorts feature golf, spas and programs for the whole family. Hilton Waikoloa Village is located on the Big Island and Hilton Hawaiian Village on Oahu.
Adventure Vacation
Adventure vacation ideas in Hawaii range from scuba diving and kayaking to mountain biking down Haleakala and hiking in Hawaii Volcanoes National Park. Many vacationers rise early to watch the sunrise at 10,000 feet in Haleakala National park. If you are up for it, adventure companies offer mountain biking down the slopes of Haleakala in Maui right after the sunrise. There are also many scenic golf courses. Be sure to check for packages that include activities to save on vacation.
1. Waikiki Beach
Waikiki Beach on Oahu is a two-mile stretch of sand located on Oahu, Hawaii. The beach offers numerous activities, including snorkeling, surfing, canoeing and relaxing in the sun. Waikiki Beach is lined with hotels, condominiums and vacation rentals where vacationers who do not mind crowds can step directly onto the beach.
Vacationers on Waikiki Beach can take surfing lessons, participate in a whale watching excursion, find a stretch of the beach suitable for families, or simply relax in the sun. There are several restaurants featuring Italian, Japanese, Pacific Rim, Mexican, American and Continental cuisine.
Near the Diamond Head Crater side of the beach, there are several picnic areas. Kapiolani Park is a 170-acre public park with picnic facilities. The park is also the setting for concerts and other cultural events.
Planning a visit to the Waikiki Beach: There are numerous hotels and condominiums to choose from on Waikiki Beach. In fact, the whole 2-mile beach is lined with hotels.
2. Snorkeling at Honolua Bay, Maui
Honolua Bay on West Maui is located just west of the Kapalua Resort. This is a popular snorkeling spot on Maui where the Hawaiian sea turtles can frequently be seen. You'll notice a few charter boats docked in the bay.
Honolua Bay offers a rocky shore (not a sandy beach) and beautiful underwater reefs. How to Get There: A few miles past the Kapalua Resort on the highway, you'll notice cars parked on the left side of the road. There is a path that leads from the road, under beautiful old trees, to Honolua Bay.
3. Visit Paia, Maui for Great Surfing, Healthy Food and Unique Shops
Paia is small coastal town with brightly painted buildings and health-counscious residents. This is the last town where you can get gas on the way to Hana, Maui. Rent a surfboard, go shopping for beachwear, hemp clothing and healthy snacks. Mana Foods sells organic produce, cosmetics, sandwiches and deserts. The town is family-friendly.
4. Tropical Plants in Hana, Maui
Hana, Maui, is home to beautiful tropical flowers and plants which flourish in the warm climate with frequent rain showers. Don't miss seeing the beautiful Hamoa Beach which is surrounded by lush tropical foliage. Relax on the beach, go for a swim and play in the waves.
If you want to learn about tropical plants, visit Hana Gardenland (www.hanagardenland.com, 808)-248-7494) which exhibits palm trees, exotic plants and fruit trees that grow in the area.
The beautiful grounds at Travaasa Hana are a great reason to stay at this luxury resort. Guest cottages are surrounded by Hawaiian plants. Diverse flowers grow on the hotel grounds. The hotel offers lei making lessons which include picking your own blossoms.
5. Waikiki Beach Hotels with Ocean Views
Waikiki Beach offers a diverse selection of hotels and resorts. If you are looking for beachfront romantic getaways, some are located right on the beach and offer exclusive beach clubs, while other are situated along Kalakaua Avenue which runs parallel to the beach.
Beachfront hotels on Waikiki Beach include the Royal Hawaiian Hotel, Halekulani, Hilton Hawaiian Village, the Sheraton Moana Surfrider, the Sheraton Waikiki and Outrigger Waikiki.
The Royal Hawaiian and the Halekulani Hotel are popular romantic getaways. The Royal Hawaiian has a luxury beach club and a relaxing spa. Hilton Hawaiian Village Beach Resort offers a beachfront lagoon, waterfalls and five pools, including Waikiki's largest pool, the 10,000-square-foot Super Pool. The resort is popular with families because of its diverse selection of beach vacation activities.
Some of the other romantic hotel choices on Waikiki Beach include the Waikiki Beach Marriott Resort & Spa, Hyatt Regency Waikiki, Aston Waikiki Beach Hotel and Sheraton Princess Kaiulani.
6. The Road from Waikiki Beach to Kahala
If you are staying at a resort on Waikiki Beach, drive or jog along the road from Waikiki to Kahala to enjoy beautiful views of Oahu. Once you leave Waikiki, the road leads past Diamond Head, the lighthouse and scenic cliffs overlooking the ocean.
There are several scenic overlooks along the way. Once you reach Kahala, have lunch at Kahala Mandarin Oriental and watch the dolphins. Driving and Walking Times: By car, Kahala is about 15 minutes from Waikiki. If you are planning to walk, it will take about 2 hours. The walk is uphill part of the way. Be sure to bring some water.
7. Marie's Health Foods in Waikiki
8. The Kona Coffee Cultural Festival in Hawaii
The Kona Coffee Cultural Festival encompasses over 30 events at various locations on the Big Island of Hawaii and celebrates the annual coffee harvest, one of the most economically important harvests on the Big Island.
The festival offers a variety of events, ranging from coffee samplings to several contests, such as the coffee bean picking contest. Visitors can learn about the history of coffee growing in Hawaii: how the first coffee tree was planted in 1828 or 1829, why Kona with its volcanic soil was perfect for coffee-growing, and the economic importance of coffee in Hawaii today.
Visitors can take a tour of a working Kona coffee farm and learn about traditional Kona coffee growing, picking and roasting. The Kona Coffee Belt also offers unique shops, art galleries and many opportunities to sample delicious Hawaiian coffee.
Planning a Hawaii Vacation around the Festival: For a complete schedule of events during the festival and for more information about the Kona Coffee Beltvisit www.konacoffeefest.com. The web site offers a map of a Kona Coffee Country driving tour with a list of coffee farms and and other local stops.
9. World Invitational Hula Festival in Hawaii
The festival strives to preserve the Hawaiian culture and knowledge of Hawaiian history. Visitors can enjoy traditional dances of hula in an outdoor setting. To get into the mood of the festival, vacationers often wear a Hawaiian lei. Visitors can bring a picnic lunch or purchase dinner at a concession stand. Several local vendors sell Hawaiian arts and crafts. The hula dancing begins at 5:30 p.m.
This year, the festival will take place from November 8th through the 10th, 2012. Performances will feature artists from Hawaii, the mainland, the Orient, Mexico and Europe.
Planning a Hawaii Vacation around the Hula Festival: Tickets cost from $5 for lawn seating to $25 for Judges' Golden Circle. Children under 4 years old can enter free of charge. Tickets become available in October at the Blaisdell Center Box Office in Honolulu, Hawaii, and through Ticket Plus at (808) 526-4400. You can also visit www.worldhula.com.
10. Maui Film Festival at Wailea in Hawaii
The Maui Film Festival is a unique annual event where visitors can watch films under the clear Hawaiian sky. The festival incorporates local Hawaiian traditions, such as hula dancing, chanting and singing. The next Maui Film Festival at Wailea will take place from June 13 to June 17, 2012.
Films will be shown at the open-air SandDance Theater on Wailea Beach and at the Castle Theater. Participating studios will include DreamWorks Pictures, Miramax Films, Sony Pictures Classics, United Artists and First Look Pictures.
The Maui Film Festival also incorporates other events, such as dancing, food, wine and chocolate tasting. Planning a Hawaii Vacation around the Festival: Several hotels offer packages during the duration of the festival on Maui. One of the luxury resorts in the area is the Grand Wailea Resort Hotel and Spa. For festival schedule and ticket information, call 808-579-9244.
11. Private Beach Vacation on Maui - Big Beach
Nothing will ruin a good beach vacation faster than a massive crowd. As you begin any beach vacation you have a picture of a tropical beach in your head. You imagine the nice palm trees, a couple of chairs, gentle rolling waves and maybe a cool drink in your hand. You arrive at your dream beach, only to realize that the dream has turned into a nightmare. There are so many people on the beach you can hardly see the sand, there isn't a chair in sight, and the gentle waves have turned into 10 foot swells. Fortunately, Maui has enough beach destinations to keep even the most picky traveler happy.
Big Beach, or Makena Beach, is part of Makena state park near the Wailea area of Maui. Big Beach is a great beach getaway for anyone looking for a little more space than the typical resort front beach on Maui. The Beach will not always be as deserted as some of the more remote beaches on the island, but since it's so massive space will never be a problem.
Getting to the Beach: The beach is about a five minute drive from the Wailea area resorts. There is a large parking lot at the entrance to the beach so parking isn't a problem except for sometimes on the weekend.
Beach Tip: The surf at Big Beach isn't the biggest that we've seen, but you should always check the surf conditions before you enter the water. With some bottled water, a picnic lunch, and a big beach towel you can sit comfortably at Big Beach for the entire day. Remember, while there isn't alot of crime on Maui, be sure not to leave any valuables in your car. You'd be surprised to hear how many people are surprised that their cameras gone after they park their car, leave the windows down, and their camera sitting on the front seat. More Maui beaches.
12. Wailea Golf Academy
The Wailea Golf Academy offers individual lessons and golf schools for all levels. Half Day Schools at the Academy will teach you the basics of golf. The schools take place from 7:30am to 1:30pm and cost $300 per person, including lunch at the SeaWatch or Mulligans on the Blue. Full Day Schools for experienced players (18 handicap or less) take place from 7:00am to 3:00pm and cost $450 per person, including lunch. You'll be able to take advantage of digital video analysis of your golf swing and practice putting, chipping, pitching and full swing. For more information, visit the Wailea Golf Academy web site at www.waileagolf.com, or call 888.328.MAUI.