Romantic Getaways in Hawaii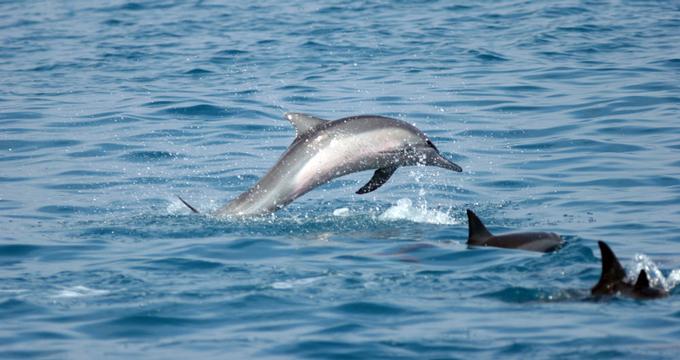 [Photo:Vacationidea]
Images of the Hawaiian island sunsets, hula dancers and sandy beaches make it easy to get inspired to plan a romantic vacation to Hawaii. Perfect for beach enthusiasts, Maui is home to white sandy beaches and beach resorts offering activities ranging from championship golf and luxury spas to an array or water sports and ocean-based activities. In the winter, take a romantic sunset cruise and watch whales jumping in the ocean. Oahu offers vacationers many things to do, from the famous Waikiki Beach to secluded beaches on the north shore. In the summer, the ocean has the best visibility for snorkeling and scuba diving. Browse Maui and Hawaii vacation packages to save on vacation. If you are looking for secluded beaches and friendly atmosphere, visit the island of Molokai.
1. Snorkeling on the Big Island
The Big Island of Hawaii has several great beach resorts, including the Mauna Lani, Hualalai and Mauna Kea, where you can rent snorkels and explore colorful coral reefs. Paddleboarding has really taken off in Hawaii and a beach vacation is the perfect opportunity to take a lesson right on the hotel beach. The Fairmont Orchid and the Mauna Lani Bay Hotel are two hotels at the Mauna Lani resort. The main pool at the Fairmont Orchid is surrounded by tropical plants and just steps from the resort's relaxing spa.
2. Couples Beach Activities
3. Surfing in Waikiki
Waikiki Beach on Oahu is the place to go if you want to enjoy a wide selection of restaurants, shopping and attractions on your beach vacation. Home to numerous hotels that line the beach, Waikiki attracts honeymooners as well as families. It's easy to take a surfing lesson, go shopping at the Ala Moana shopping center and visit the aquarium on the same day. The waves are on the small side in Waikiki Beach, even in the winter.
4. Romantic Dinner on the Beach
5. Renew Your Wedding Vows on Waikiki Beach, Hawaii
The Outrigger Reef on the Beach and The Outrigger Waikiki offer their guests a complimentary vow renewal ceremony Hawaiian-style. The event takes place on Waikiki Beach in front of the Outrigger Reef hotel.
The ceremony begins with a welcoming Hawaiian chant by the kahu (priest). The couple is lead to the ocean's edge and honored with a traditional hula and song. The couple is blessed by a sprinkling of sea water before they recite their vows in Hawaiian. At the conclusion of the ceremony, the couple is presented with a commemorative certificate.
The Hawaiian Vow Renewal Ceremony is available to guests of the Outrigger Reef on the Beach and the Outrigger Waikiki every Tuesday and Friday at 8am. Couples must sign up at the concierge desk by 3pm the day before.
6. Shopping in Waikiki at DFS Galleria Waikiki
DFS Galleria Waikiki, located near Waikiki Beach behind the Royal Hawaiian hotel, sells a number of luxury brand items duty-free. Brand boutiques include Dior, Hermes, Burberry, Bvlgari, Cartier, Fendi, Prada and Salvatore Ferragamo. Visitors can choose from jewlery & watches, apparel, cosmetics and other items.The shopping center is open daily from 9am to 11pm. 808-931-2655
7. Aloha Festivals in Hawaii
Aloha Festivals date back to 1946 when the festivals were created as a week-long cultural celebration of the Hawaiian islands. Today, Aloha Festivals take place on six Hawaiian islands over a two-month period. There are 300 events which attract one million visitors every year. 2012 event dates are 9/15/12 for the Waikiki Hoolaulea and 9/22/12 for the Floral Parade.
Oahu events take place from September 6, 2012 through September 22, 2012. Events include Floral Parade in Waikiki , Steel Guitar Festivaland King's Arrival at Waikiki Beach. Many hotels on Oahu participate in the festival.
The Big Island of Hawaii events include native dances, parades and contests. Molokai, Lanai and Kauai feature events ranging from parades, talent shows, contests and county fairs.
Planning a Hawaii Vacation around Aloha Festivals: For a complete calender of events, visit www.alohafestivals.com. Vacationers who wish to attend Aloha Festivals can purchase a ribbon for $5 which gives them access to the events. Ribbons are available on site, or can be ordered by calling (800) 852–7690 or (808) 589–1771.
8. Sandy beaches
When choosing the best beach resort for your vacation in Hawaii consider details like spa facilities, golf courses, programs for kids and accommodation options. Couples who want ocean views from their room should call ahead and book early, especially during peak holiday weeks. Beach resorts often offer Hawaii vacation packages and deals that include spa service, rounds of golf or a rental car.
9. Waikiki Beach Activities
Waikiki Beach on Oahu offers a variety of vacation activities, ranging from surfing and swimming to kayaking and outrigger canoeing. The beach is shallow and the water is calm, which makes the beach popular with families.
The waves are usually gentle on Waikiki Beach and many visitors decide to try surfing for the first time. The surf is under two feet in the winter, and around three feet in the summer. There are occasional four to six foot swells in the summer. Surfing lessons are available at Aloha Beach Services located next to the Sheraton Moana Surfrider. Private lessons are $35 per hour and surfboard rentals are $10 per hour.
Hawaiian outrigger canoes can be rented on beach. Vacationers can choose from kayaking, swimming and catamaran rides. Na Hoku II offers one-hour round-trip catamaran cruises ($10) past Diamond Head. The catamaran departs from Waikiki Beach in front of the Sheraton Moana Surfrider hotel.
10. Cheeseburger In Paradise, Waikiki
Cheeseburger In Paradise, located across the street from Waikiki Beach, is open for breakfast, lunch and dinner. If you walk along Kalakaua Avenue between the Sheraton Moana Surfrider and Outrigger Waikiki, the restaurant is easy to spot - just follow the sounds of Rock 'N Roll music. Cheeseburger In Paradise is open seven days a week and offers a full service bar serving tropical drinks and ice cold beer. Entrees include burgers, salads, fries, onion rings and sandwiches. Cheeseburger In Paradise dish includes a half pound Natural Angus Beef Patty topped with a special blend of Jack and Cheddar cheeses. This is a fun family-friendly restaurant.
11. Outrigger Canoeing on Waikiki Beach, Hawaii
Enjoy a ride in a Hawaiian outrigger canoe while staying on Waikiki Beach. Waikiki Beach Services at Outrigger Waikiki offers outrigger canoe rides; open daily from 8:30am to 3:30pm. For more information, call 808-926-9889. Visit the Oahu Hawaiian Canoe Racing Association web site at www.ohcra.com for information about upcoming outrigger canoe races in Hawaii. Scuba diving on Oahu is also a great way to have fun in the water.
12. Boutique Shopping in Waikiki
In Waikiki on Oahu you can enjoy a shopping vacation combined with relaxing on the beach and scenic views of the Pacific Ocean. Go shopping along the section of Kalakaua Avenue that runs parallel to Waikiki Beach for a selection of beachwear, clothing and souvenirs. DFS Galleria Waikiki offers luxury brand items duty-free. Visit the 90 shops at Hilton Hawaiian Village Beach Resort which sell items ranging from original art to jewelry and clothing. Where to Stay Waikiki Beach offers a great selection of hotels and resorts. Find out where to stay in Waikiki on Oahu, Hawaii.